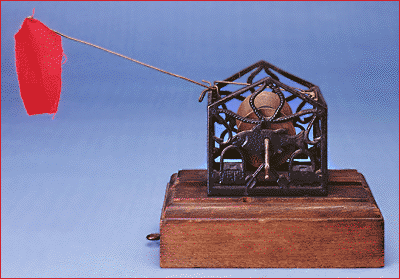 Tip Up / Fish Decoy Signalling Device
Cast iron, twine, wire, lead and native pine, 9"x12"x12", Circa 1890
Fishermen have always been fabulously inventive people and were perhaps the original "early adapters of new technologies. Rods, reels, nets, boots and other gear have always been technologically far advanced of their times, because fishing tools were designed to keep the outdoorsman relatively comfortable in the most extreme situations.

Certainly of all the extreme outdoor sports, none is more difficult or extreme than deep water Ice Fishing, demanding that its participants spend long hours on frozen lakes in the most severe weather conditions. Tools had to be ruggedly made and completely dependable to stand up to the climactic extremes of the sport.

Like Ice Fishing decoys, these tools developed a beauty and an aesthetic of their very own and are now considered highly collectible as examples of the American spirit, its art and ingenuity.



| | |
| --- | --- |
| | |

Copyright 2012 & 2013, FishDecoy.com.
All Rights Reserved